Transport
A. Hingley Transport is one of the largest steel carrying hauliers in the UK. From it's background in general haulage, A. Hingley Group has evolved and developed a portfolio of services coupled with investment and expertise to meet customer requirements.
Daily nationwide deliveries throughout the U.K.
Large fleet of purpose built trailers for steel coil carrying and related products.
General trailer fleet to provide for multi drop/multi product user requirements.
Contract distribution services provided at customers premises.
Vehicles and personnel dedicated to customer requirements.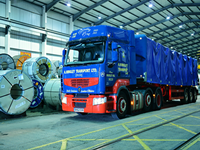 Daily Deliveries Throughout The UK
With our fleet of 80 tractor units all with 44 tonne gross payload capablity plus our extensive fleet of trailers we can offer a next day delivery service throughout the UK.
Our dedicated team of traffic managers route our fleet on a daily basis and are in constant contact with our drivers in order to update our customers on delivery performance.
All drivers are fully trained and qualified in matters of load security and conform to current Health & Safety guidelines, with the vast majority holding an NVQ level 2 in driving goods vehicles.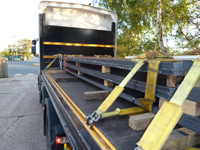 Large Fleet of Trailers For Carrying Steel Coil

Our fleet of specialised steel coil carriers which number in excess of 140 trailers are specifically designed to carry both heavy coils in excess of 20 tonnes or smaller slit coil.
All our trailers are designed and built by our own in house trailer manufacturing operation based locally to our transport facility.
We have also recently designed and built a new light weight trailer for the steel industry that has the potential to carry 32 tonnes payload, which will dramatically reduce the number of vehicle road journey's, thus producing less pollution on our roads.
We have also incorporated into the design the new "Delta Load Security system" which is a new innovative system for the safe securing of loads to a trailer body ( see Hingley Trailers website for details ).
Our new light weight trailer has recently undergone extensive trials with our major customer TATA Steel UK, with succesful results and they have now ordered a number of these for delivery in late 2012 / early 2013.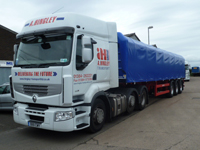 Contract Distribution Services

Along with our general transport capability we offer our major customers a bespoke transport solution for their business.
We can offer dedicated vehicle and trailer resources along with full time on site traffic co- ordinators supported by our in - house transport software systems, providing management information on key performance indicators.
This service can also provide real time vehicle track and trace options, along with extensive data for our customers highlighting vehicle efficiency and productivity issues.