News
50 Years of Scania.
A Hingley Transport Ltd are celebrating Scania's 50 years in the trade by purchasing number one of the 50 limited edition Golden Griffins. We have opted for the larger 730 bhp V8 engine. We already own the first Scania sold in the UK, a Scania Vabis LB76 and now we own the first of the golden jubilee models. While the modern truck is in a different world when it comes to performance and economy, both have to be considered the absolute leading trucks of their time.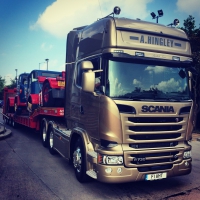 AHT Euroliners Added To The Fleet.
Two new Euroliners have gone into service. The trailers were built by our own Trailer Divison and fitted with sliding roof bodies at SDC. They have been equipped with a Coil well to be used on regular daily runs by our general fleet carrying steel coils or palletised material around the UK.
For Further Information please visit our trailer website. www.hingleytrailers.com

First Euro 6 to arrive at A.Hingley Transport Ltd.
Hingley's introduce their first Euro 6 vehicle to the fleet - with more to come later in the year. We are looking forward to an improved fuel peformance over the previous Euro 5 model. Also from the driver's point of view, comfort is a main priority and the new T Range compared to the Premium has more space for the driver.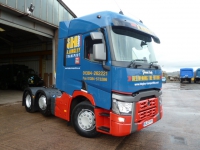 Birthday Present To Alan Hingley.


Alan Hingley was given a Mk V AEC Tractor Unit on his 65th Birthday. The vehicle was restored to its former glory by Alan's Brother Ray at the Trailer Yard with help from the Fitting shop and the experienced paint shop. Alan who was brought up driving a Mk V for a living was very happy to see the old lorry being driven down to the head office at Talbots Lane. Alan was unaware that the vehicle had been purchased and restored in A.Hingley Transport's livery.
Many Thanks to Smith Bros for making it possible.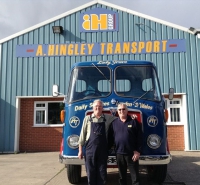 Celebrating 45 Years of Being Limited!
2013 is the year at A.Hingley Transport LTD that we celebrate 45 years of being Limited. To Celebrate this we have painted a new premium in our Blue livery. There is also a matching trailer to accomply the unit arround the UK making its daliy delievers.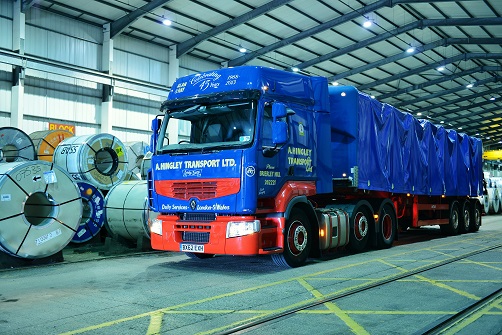 Coil Carrying Trailer.


Our trailer division has designed and built a light weight coil carrying trailer that can carry in excess of 31 tonnes and still comply with the legal 44 tonnes tractor & trailer combination. Following a request from our major contract customer TATA Steel UK Ltd to develop such a trailer we have used our expertise and wherever possible and safe to do so light weight materials in the build, e.g. alloy wheels etc in order to gain additional payload.